Consumers just aren't picking up their phones to talk anymore. It's hard enough to reach them for non-collection reasons, but once the account goes into collections, for some reason consumers just don't want to talk to you! And who can blame them? It's likely an embarrassing situation for them.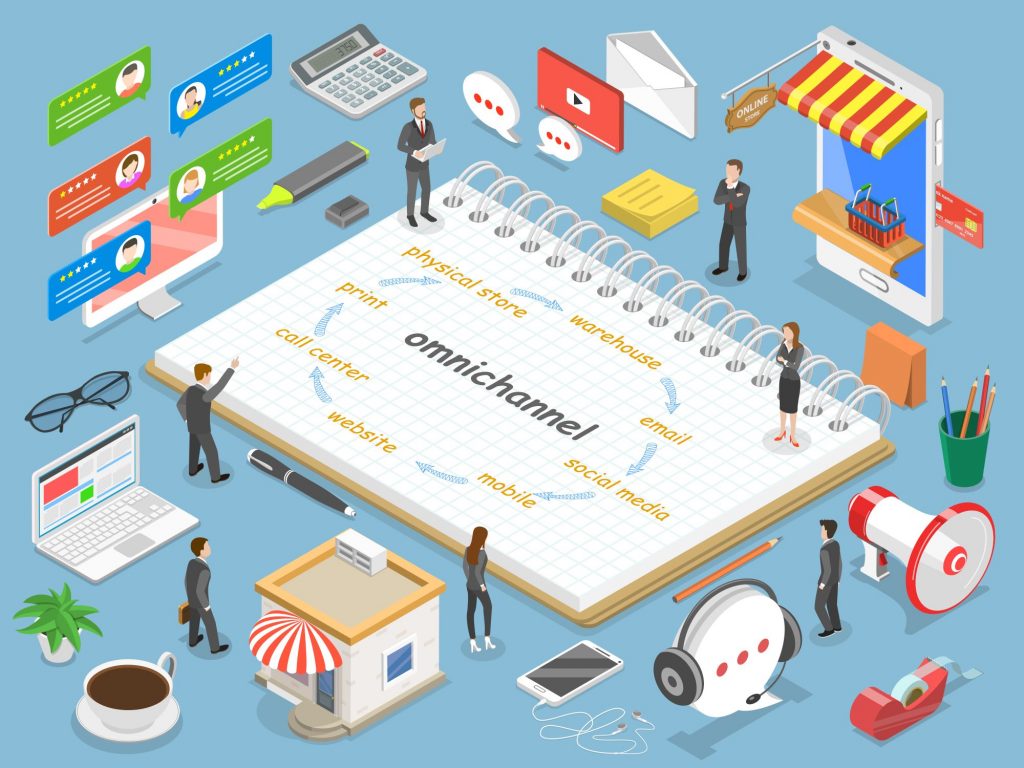 Most prefer an anonymous communication method such as text, email, or webchat. These

digital communication methods

lend themselves nicely to the Omni-Channel experience.


What are Omni-Channel Communications
The Benefits of Omni-Channel Communications in Collections
And in the two follow-up articles we will discuss:
Generational Considerations
Regulatory Considerations
Preparation and Strategy
What Omni-Channel Looks Like in Collections
What Are Omni-Channel Communications?
Omni-Channel communications refer to a singular/unified experience for consumers across multiple channels.
Additionally, a true omni-channel system should not only have the ability to communicate via different channels seamlessly but also be able to update your host system and determine the next best communication method per customer preference.
One thing that many companies mistake for Omni-Channel communication is actually just MULTIPLE-Channel communications. If you communicate with customers using multiple channels, that's a great start, but until they all seamlessly work together allowing consumers to move between channels easily, can be tracked, update your host system with information gathered in the interaction AND determine the next steps for the customer to take, it is not a true Omni-Channel system.
What are these 'channels' we keep talking about?
Phone calls – incoming and outgoing
IVR (Interactive Voice Response)
Ringless Voice Mail (AKA Direct Drop Voice Mail – a process whereby a voice mail is placed in the recipient's voice mailbox without their phone ringing. The voicemail is delivered from the sending server to the recipient's voicemail server)
Email
Text/SMS – one-way and two-way
Web Site

Chat
Payment Portal
Access to account information (balance, payment plan, etc.)
Docu-Sign
Upload/download documents

Letter (Snail Mail)
Fax (yep, it's still a thing)
In-Person
Social Media
Benefits of Omni-Channel Communications
Omni-channel in collections is a great opportunity to build relationships with consumers, not just produce payments. By communicating with the consumer in a way in which they want to be communicated with, you allow for a better customer experience.
There can be many benefits to implementing an Omni-Channel Communications strategy in your collection's strategy. Such as:
Enhanced customer experience
Lower cost per consumer interaction (pennies vs. dollars for a call)
Compliance/Risk may be better managed with automated/standard responses
Happier customers

More Convenient
Consumers feel more

in charge of the interaction

– it's on THEIR terms
Less embarrassment to consumers who are in a collection situation

Brand loyalty for both the agency and their client bank
Statistics; Texting, Emailing, and Cell Phone Ownership
Let's face it – people generally have their cell phones with them all the time, and more and more are getting used to doing everything on their phones, not just communicating but banking, investing, socializing, entertainment, and more. Communicating with consumers the way they want to be communicated with and in a manner that they are comfortable with is key.
EZ Text, a mass texting company, did a survey on mobile usage:
Texting has 6x the engagement of email – I don't know about you, but I look at my texts several times per day, whereas my email…..usually only every couple of days in the evening. Many corporate firewalls don't allow users to access personal email from their work computer for security reasons, so if you really want to reach someone during office hours, email may not always be the best way.

More than 50% of consumers check their phones 5+ times per hour – who else besides me is guilty of this? Not necessarily throughout the day at work, but definitely evenings and weekends.
50% of those aged 18-29 check their messages at least 7+ times per hour – my son and many of your children fall into this category, and just look around you at restaurants and in stores, I'd say that this istrue
65% of consumers check their phones within 5 minutes of waking up – when I first saw this I thought, nope at least this is one I'm not guilty of – but then I started to be aware of it and yep, it's true for me too!
90% of consumers open and read a text within 30 minutes of receipt – again, from what I witness, I can agree with this – phones can generally be seen on desks, in meetings, in restaurants, etc. If the phone is on the table in front of you, you will generally glance at it when it lights up, and usually, click on the text to open it.
Texts have a nearly 100% open rate
Texting dominates across all age groups and is the top activity of all cell phone users
Radicati Group did a more pointed survey related just to emails, here are some of the more striking results of their report:
3.9 billion active email users vs. 3.5 billion social media users

American workers get an average of 125 emails each day
60% of emails will be opened on a mobile phone
293 billion emails were sent and received per day in 2019, forecasted to grow to 347 billion by 2023
Pew Research Center has conducted annual research on cell phone ownership annually since 2012. In posting the results of their 2019 research, they state: "A substantial majority of Americans are cellphone owners across a wide range of demographic groups. By contrast, smartphone ownership exhibits greater variation based on age, household income and educational attainment." The most recent report results are as follows:
Percentage of U.S. adults who own the following devices:
| | | | |
| --- | --- | --- | --- |
| | Any cellphone | Smartphone | Cellphone, but not a smartphone |
| Total | 96% | 81% | 15% |
| Men | 98% | 84% | 14% |
| Women | 95% | 79% | 16% |
| Ages 18-29 | 99% | 96% | 4% |
| 30-49 | 99% | 92% | 6% |
| 50-64 | 95% | 79% | 17% |
| 65+ | 91% | 53% | 39% |
| White | 96% | 82% | 14% |
| Black | 98% | 80% | 17% |
| Hispanic | 96% | 79% | 17% |
| Less than high school graduate | 92% | 66% | 25% |
| High school graduate | 96% | 72% | 24% |
| Some college | 96% | 85% | 11% |
| College graduate | 98% | 91% | 7% |
| Less than $30,000 | 95% | 71% | 23% |
| $30,000-$49,999 | 96% | 78% | 18% |
| $50,000-$74,999 | 98% | 90% | 8% |
| $75,000+ | 100% | 95% | 5% |
| Urban | 97% | 83% | 13% |
| Suburban | 96% | 83% | 13% |
| Rural | 95% | 71% | 24% |
Source: Survey conducted Jan. 8 to Feb. 7, 2019.
PEW RESEARCH CENTER
The digital world is upon us. It is no longer an option to not engage with consumers digitally. As the younger generations begin to dominate the customer base, it is essential that you have a plan in place for communicating with them not only in front-end lending but also in your collection strategy.