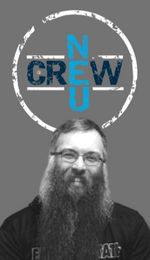 Welcome to the first of our new employee highlights – the Neu Crew! Each month you'll get to know one of our valued NeuAnalytics employees. First up: Matt Bricker!
Name: Matt Bricker
How long have you worked at NeuAnalytics?
I started in October 2015, so 6 ½ years.
What is your current position/title and what does that mean?
I am a Manager of Client Operations. I manage a team of data analysts and business analysts to help provide support to customers and ensure continued success.
What is the best part about working for NeuAnalytics?
110% it's the people. Everyone here is a smart, fun, passionate person and there hasn't been a person I've worked with that I wouldn't grab a beer or hang out with. Everyone wants to do a good job and everyone cares; it makes coming to work and doing good work easier and more fun.
Additionally, we've really fostered a culture where everyone is free to share their ideas or propose solutions. It could be your first week or your tenth year at NeuAnalytics and we will listen to any ideas you have and consider them. Everyone comes in with different life experiences and we want to learn from everyone!
What do you like to do while you're not at work?
I started playing Hockey back in 2017 along with my younger brother Kyle, I was in my mid-30's at the time. We now play 2-3 times/week on a couple different leagues. I'm the captain of one of the teams.
I also love to read – to be honest that comes and goes in waves, but I've read about 10 books so far in 2022. I like fantasy or science fiction, but I also like professional development and business books. I get on tangents and sometimes go down rabbit holes with one topic or another.
I also enjoy video games and some TV. But I always enjoy spending time with my wife Petra and our dog Lupin.
What is your favorite type(s) of food?
Tacos and Pizza
What is your favorite type of music?
Punk rock, old and new. I like the bands "The Ramones", "Bad Religion", "Against Me!", "Bad Cop, Bad Cop", and "PUP". Much of the newer punk rock is very DIY, which sometimes makes it harder to find, but also very fun when you find them.
If you could have any job other than your current job, what would you do?
I like the idea of writing – so perhaps an author. I am currently listening to a book by Stephen King titled "On Writing", and he discusses how anyone who wants to be an author must also read all the time. I enjoy reading and doing research. I'd like to really dig into a specific topic, do the research, find out the history and background and share the information.
We know you donate blood quite often. Can you tell us more about that? How did you get started? What is the impact?
It started in college – I was in the XI PHI honorary society, and we hosted campus blood drives twice a year – I was president of that organization and worked with the Red Cross to coordinate the drives.
After I graduated, I dropped off a bit, but then a few years ago my nephew Alex, who is now 11, was diagnosed w/ leukemia. At that point I knew I wanted to help in some way – but not being a doctor, there wasn't anything I could do directly for Alex other than being there for him. So, I did some research and found out that with many forms of cancer, patients need blood platelets. So, I started donating platelets. You can donate platelets up to 26 times per year, whereas with blood you have to wait a couple of months between donations. So I started donating as much as possible. It takes about 2-3 hours each time I go in. But that's the least I can do to help people like Alex who are struggling with cancer.
Since I started, I've donated about 60 times. It provides me some additional time for reading and just quiet/down time for me. It also makes me feel great because I know I am helping people.
I encourage everyone to donate if you have the time and ability. Blood, platelets, plasma or whatever you can. Especially with everything that has been happening in the past couple of years, it's important to continuously re-stock the supply. Blood has a shelf life, and they need to constantly replenish the supply.
For more information about donating blood, you can contact: